A functional notepad with appearance
Practical and easy to use
Q620 Static Paper memo pads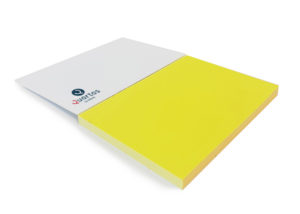 Notes with a static charge
Almost everyone uses a memo pad at some time. If you can make sure your notepads are used by your relations, this is an incredibly strong advertisement for your company. Of course it is important that the memo pad is practical and beautifully designed. Quartas can help you with this.
Quartas offers a variety of notepads. Via the buttons above you can view the various types. In addition to the standard memo pad with imprint of your corporate identity, we also offer static memo pads that stick by means of a static charge. Very easy!
Are you looking for a promotional gift that proves its value 365 days a year? And that you can completely design in your own corporate style? Then Quartas can help you. With a wide range of calendars and notebooks, there is always one product that meets your needs. Functional, efficient and effective. As a specialist in printed promotional gifts, Quartas can help you from design to delivery, and therefore deliver quality. 
We'd like to hear from you
We will contact you as soon as possible.
The calendars by Quartas are available in various designs. The calendar blocks have a standard lay-out that is clear and easy to view. Each calendar is provided with week numbers and marked holidays and weekends. The calendars can be supplied in various languages. The week begins on Monday (with the exception of American versions) and the calendars are provided with a useful date indicator, and can be supplied with different background colours. In addition, the calendars can be produced completely in your own corporate style.
We'd like to hear from you
We wil contact you as soon as possible.